The Mastering Medical Sales 6 CD Audio Program
The foundation for medical sales success is presented in this comprehensive medical sales audio program.
You will learn specific medical selling skills used by the highest earning medical sales professionals selling in healthcare today. Listen in your car while your drive, while exercising, or between sales calls.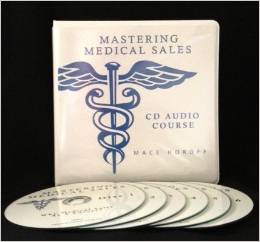 The course includes the following 16 audio chapters:
1: Why Medical Sales as a Career?
2: Selling in Healthcare is Different
3: The Medical Sales Rep is a Professional
4: You're a Professional–Look the Part
5: Everything You Do Matters
6: Ethics and Integrity in Medical Sales
7: Confidence is NOT Optional
8: The Medical Sales Attitude
9: The Essential Medical Sales Skills
10: The Keys to a Successful Medical Sales Presentation
11: Opening the Medical Sales Conversation
12: Using Questions Effectively in Medical Sales
13: Offering Solutions to Healthcare Customers
14: Handling Objections in Medical Sales
15: Closing the Medical Sale
16: Getting Past "The Gatekeeper"
The program was created by Mace Horoff. Mace is a medical sales performance expert and author with 39 years of success in healthcare and medical device sales. He delivers live presentation and workshops for companies and distributors who sell to a variety of healthcare professionals and decision-makers in medicine and dentistry, as well as the allied health world.
Order The Mastering Medical Sales Audio Program now and turn drive-time and wait-time into medical sales success time.
$249
INVENTORY IS SOLD OUT!
FREE USPS MEDIA MAIL SHIPPING IN U.S. INCLUDED

PLEASE NOTE: As stated in Terms of Sale, this is a digital product and is NOT returnable. All sales are final.