Mastering Medical Sales Online eTraining
Learn the sales methodologies and  skills of the Top 1% in Medical Sales. Break the Resistance of 
Your Toughest Customers.


Sell more and earn more

.
Learn how to sell effectively in the rapidly changing healthcare sales environment.
On your own schedule, master the intricacies of effective medical selling so you can differentiate yourself and your products to healthcare professionals.  Be seen as the obvious choice and consistently outsell your competition…  
Take two medical sales representatives who sell for the same company and have similar territories. Both are hard-working, likeable, and ambitious. Flash forward twelve months and one has converted most of the business in the territory and is earning a huge income while the other is struggling just to pay expenses. Why is one in The President's Club and consistently growing while the other can't even get appointments and is on probation for missing quota three quarters in a row?

What is the difference between the two medical sales representatives? One is a top performer who consistently influences buying decisions of medical professionals while the other just talks about products and sounds like almost every other competitor in the territory.

Top performers in medical sales create relationships where customers BUY (and it's not what you think).
Top performers don't allow their customers to control the sales conversation.
Top performers continuously differentiate themselves, their products, and their companies so they are the obvious first choice—not the competition!
Top performers increase sales with every customer at every encounter, even when they're already doing business with them.  Are you?
Mastering Medical Sales eTraining is for you if you sell to:
*Physicians
*Dentists
*Chiropractors
*Podiatrists
*Nurses
*Therapists
*Hospitals / Clinics
*GPOs/IDNs
*Medical Office Managers
*Technologists
*Technicians
*Paramedics / EMTs
*Anyone  in health care delivery
Be honest with yourself…do you ever deal with these common challenges in medical sales?
-You don't always identify or get to the real decision-makers
-You don't have access to ALL of your customers whenever you want or need it
-Your customers are either quiet or bored, or they shoot down almost everything you present during a sales call
-Customers say, "Thanks.  I'll keep it in mind." …and you never hear from them again
-You feel intimidated by your customer's expertise and strong personalities and you're not sure how to handle it
-You have difficulties getting customers to commit (if you even try!)
-You struggle with follow-up when customers won't take your calls, won't let you back in to see them, or just -tell you they're not interested (when you thought they were)
-You frequently feel frustrated, like you're spinning your wheels and not getting anywhere
-Your sales numbers suck!
"Thanks Mace for guiding me along this journey. Your course taught me how to get through closed doors and get surgeons to change who didn't want to change. This industry can be daunting at times but with your support I feel like I'm equipped with the tools to consistently grow my territory."
-Randy L., Florida
Orthopedic Implants Rep
Right now, answer this critically important question:  Do you expect to get different results by continuing to do what you've been doing (Einstein's definition of insanity)…or are you ready to learn from the top 1% and do what works to create the results (and income!) you're after?
If you sell intuitively, in other words, you do what you "think" should be done, you're at an extreme disadvantage.  Medical sales is not like sales in other industries.  You're selling to highly educated experts with strong egos who don't respond to generic sales approaches…in fact, it often just irritates them, which I think you'll agree is not an effective way to sell!
Here's what you're going to learn that will enable you to obtain consistent sales results!

You'll master medical selling with the 9-Step PAIN SONAR Medical Sales Formula created specifically for selling to healthcare decision-makers.
You will build the ideal medical sales relationship with each customer that creates an open-door policy for you, facilitates ongoing sales growth, and leaves your competitors wondering why they can no longer get in.
You will gain an unfair advantage in almost any selling situation by addressing what your customers are thinking but not saying.
You will easily gain access to any customer whenever you need to.
You'll display competency and professionalism through effective technical skills that makes competitors look clumsy and unprepared in comparison.
You will have comfortable sales conversations (NOT presentations!) with customers that won't feel pushy and naturally lead to yes.
You will use a specialized method of handling objections with medical experts that turns objections into commitments and allows you to close any closeable sales (while preserving the all-important medical sales relationship).
You will Follow-Up with customers to be seen as an asset instead of as an interruption. This will distinguish you and make a dramatic difference in your sales numbers.
You will gain commitment easily and naturally at every step of the sales process. You will never be perceived as pushy, unethical, or unprofessional.
You will gain an immediate advantage over every competitor you sell against with a simple and fast sales planning process that gives you the advantage.
The new world of healthcare sales only has room for the best of the best.  Here's how to make the cut while you still have a chance…
Get rid of the excuses that you're too busy or don't have the time.  We've made it easy with the Magic of eLearning and one-on-one personal coaching!  
Do you have a desktop or laptop computer?   You're covered!
Or a smart phone such as an iPhone or Android?   You're covered.
Or a tablet such as an iPad or Android-based tablet?   You're covered.

You can uncover and master the secrets to medical sales success–24/7 on demand–from anywhere you have Internet access with a PC, Tablet or Smart Phone.  
Training that is Easy, Fast and Gets to the Point!
The entire course is broken down into modules by subject.  Each module includes video, learning scenarios and short quizzes to ensure you understand the critical concepts.  Each will take you from 15 minutes to 45 minutes to complete and you can stop at any point and resume whenever you like.  You can also review any module as many times as you like during your subscription period.
Included with the The Mastery Package eTraining
       1. Mastering Medical Sales CD Audio Course
 
The 6-CD Audio Course includes16 crucial medical sales topics. The more you listen while driving, exercising, or waiting to see customers, the more effective you will be.  This rounds out your knowledge base and keeps you performance-ready year-round.


       2. Mastering Medical Sales Quick and Concise Call Planner
Effective medical sales skills are essential, but you also need a plan! 
Most medical sales reps don't take the time to plan out each sales call.  With the high likelihood that your competitors aren't planning, you have an opportunity to eat their lunch…providing you take the time to do it. 
The planner makes call preparation fast and easy by allowing you to follow a simple process to create the advantage you need to edge out the competition.  And there is a module in the eTraining that covers how to use the planner in detail.  Students have said that the planner along with the module that explains how to use is more than worth the investment in the eTraining.

       3. Getting Past the Gatekeeper Bonus Video
Your medical selling skills serve you well only when you can get your product and message in front of the customer, and in healthcare, that's not easy.  Once you combine the information in this 35 minute video with the information  provided in other parts of the course, this will never be a problem for you.
Bonuses with Mastery Package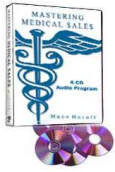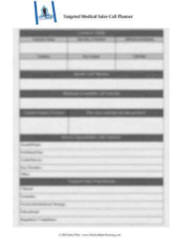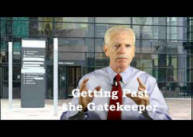 Your personal guide to medical sales success:  Mace Horoff

Are you ready to uncover the real secrets to succeeding in medical sales from a thought leader who has succeeded and helped others to succeed?
Mace has taken his 30 years of medical selling and training experience and distilled it into an easy-to-follow system.  His company, Sales Pilot Medical Sales Performance, focuses exclusively on improving sales results for companies and individuals that sell to health care providers and institutions.  Clients include companies in the Fortune 500 as well as smaller device manufacturers and distributors.
Mace produces The Medical Sales Guru Podcast plus The Medical Sales Blog.  He has authored numerous authoritative articles on medical sales that have appeared in Repertoire magazine as well as corporate publications and online sources. 
Don't make the mistake of taking some sales course from an association or organization that tells you it's specific for medical sales.  These are usually just generic sales training courses that won't get you much further than you are now.
Beware of so-called "experts" who also offer training in other industries.  Medical Sales Performance Training is the ONLY training that we offer!
"I could not believe how many things I was doing wrong.  Your course has made such a huge difference.  I'm making more calls than ever and getting evaluations on most calls."
-David R, New York
Medical Capital Equipment Sales Rep

Invest in your medical sales career with the Mastering Medical Sales Online eTraining Mastery Package
Will you invest $697 to learn the skills and secrets of the Top 1%?   Included are The Mastering Medical Sales Audio Course (sells separateley for $199), the Quick & Concise Medical Sales Planner ($197) and access to the "Getting Past the Gatekeeper" video ($99) at no additional charge. 
We have priced the eTraining to make it an easy decision for you. With the changes in healthcare and increasing industry consolidation, you can't afford to waste a single opportunity.  How much will it cost you over the next year if you don't invest in this training right now?  Only the top-performers in medical sales will survive the drastic evolution this industry is facing.

Upgrade to The Ultimate Package for only $300 more
The ultimate package includes two hours of personal one-on-one coaching with Mace Horoff (regular rate $350 per hour). The calls will be about you and your business, your challenges and your opportunities.  Calls are scheduled by appointment.
Don't suffer another day of average medical sales performance and risk your career.   Get access for 12 months to the Mastering Medical Sales eTraining Course  NOW!
"On the first call after going through the course, the surgeon just wanted to talk about the cost of the product. Using your techniques, I took control of the conversation and not only got the case but also booked a follow-up appointment to discuss other products as well. I made back almost ten times what the training cost on the first call! I'm soooo glad I got your course."
-Seth P., Florida
Orthopedic Sales Rep
"My sales manager was impressed by how well I did in front of customers…especially since this is my first medical sales job. Your training is awsome. Just don't sell it to my competition, okay"
Beth G., California
Physician Sales
Six months to pay with PayPal Credit
eTraining Package
Includes:
– Medical Sales Online eTraining (1 Yr.)
– Getting Past the Gatekeeper Video
– Quick & Concise Call Planner
 
Mastery Package
Includes:
– Medical Sales Online eTraining (1 Yr.)
-Mastering Medical Sales Audio Course
– Getting Past the Gatekeeper Video
– Quick & Concise Call Planner
 
Buy Now $697
Ultimate Package
Includes:
– Medical Sales Online eTraining (1 Yr.)
-Mastering Medical Sales Audio Course
– Getting Past the Gatekeeper Video
– Quick & Concise Call Planner
-2 Hours personal coaching
Buy Now $997